HISTORY
Web Design has been an interest to me since they were first around. When I was younger I always tinkered with a multitude personal sites that I never finished, all morbidly focused on lyrics of songs I obsessed over at the time. I taught myself how to code basic HTML and design in Adobe Dreamweaver. Luckily I've held onto a bit of that knowledge (and interest) over the years and finally created Nira Design through Squarespace.
DESIGN SERVICE PACKAGE
SQUARESPACE Builder site
Design of up to 6 pages in a cohesive design & theme.
Photo-editing in Adobe Photoshop.
Creation of custom graphics & icons.
Design Inclusions
The base site design is up to 6 pages in a cohesive theme, including a 404 page. Any additional pages are $20 per.

Retouching or resizing of images is included, if necessary.

Graphics & icons made in Adobe Illustrator especially for your design.
An in-depth questionnaire about your business & your brand, what you are looking for, and any preferences will help me move forward with the beginning of the design.
Following review of the questionnaire, I will start on the overall theme.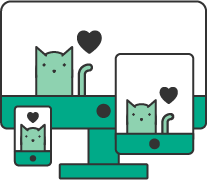 Squarespace's themes are automatically layout responsive on mobile devices, allowing for mobile-friendliness.
Allows for your site to be easily found based on keywords you've provided about you or your business.
Squarespace provides automatic analytics that help you view & understand the traffic to your site.
A complimentary 404 page will be created in case any visitors land on a broken or incorrect link.
Your domain will be taken care of: either registering a new one or transferring the current one to the new provider.
Your Squarespace site can connect to a wide range of social networks that I will setup for you.
Your site will be tested on all platforms to make sure it all works fluidly.
HOSTING
Using Builder sites encourage an invisible grid design with blocks of content that can be rearranged in a great deal of creative ways, and this allows for so many different designs. Each host offers their own catalog of premade templates that offer the client different designs and themes. While each and every template is customizable, there are limits to the customization.
Why Squarespace?
I personally recommend using Squarespace over other hosting sites such as Wordpress and Wix based on my personal and professional experiences with the site.
SQUARESPACE PRICING OPTIONS—Monthly rates are $12 for personal and $18 for business, and are cheaper if purchased annually. The eCommerce/online store is only included in the business plan.